This post was sponsored by Moz. The opinions expressed in this article are those of Sponsor.
With the advent of AI-powered tools, generative content, and Large Language Models (LLMs), our industry is witnessing rapid change in how searchers search and how those SERPs are served.
It has never been more important to improve your skills, form new collaborations and learn how to use new technologies.
The role that SEO professionals will play in the rapidly evolving search landscape is of paramount importance to many in the industry.
So it seems fitting that the theme of the 18th annual MozCon, scheduled for August 7th and 8th in Seattle, WA, is "The Future of Search".
To celebrate the release of the 2023 theme, we have an announcement.
The ultimate search competition starts now!
MozCon kicks off the ultimate online scavenger hunt where everyone has a chance to win a free MozCon ticket!
We all know the industry joke about where's the best place to hide a dead body… Page 2 of Google. But what about Infinite Scroll and all SERP features?
How to win a free ticket to MozCon
A total of ten prizes will be awarded: two personal MozCon tickets, three livestream bundles, and five livestream-only tickets.
Here's what you need to do:
Moz will post #MozConSearch clues on Twitter to reveal the whereabouts of three hidden Gold Tickets.
From June 20th to 27th, keep your eyes peeled.
Find a Gold Ticket for a chance to win a seat at MozCon 2023.
Do you have what it takes to find a hidden gold ticket? Join the search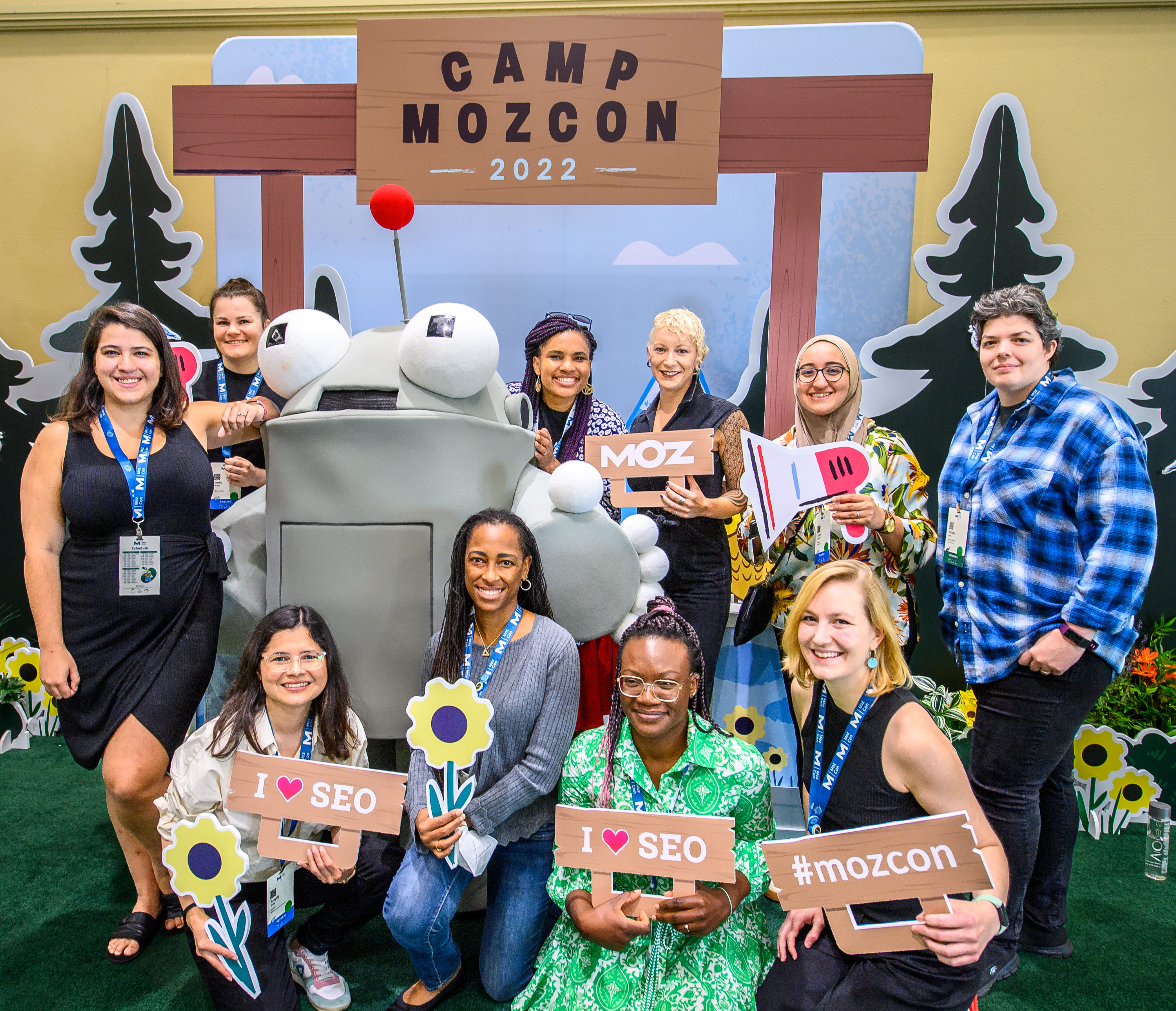 Women In Tech SEO group photo with Roger Mozbot at Camp MozCon 2022
What to expect at MozCon
Taking inspiration from the host city of Seattle, the site of the 1962 City of the Future World's Fair and the origin of the iconic Space Needle, MozCon 2023 draws inspiration from popular TV and movie sci-fi classics like The Jetsons and "Tomorrowland". will transport eager attendees to an immersive, retro-futuristic spacescape – all set against the backdrop of the Seattle Convention Center's highly anticipated new Summit Building.
The conference will host opening night happy hour on a private rooftop terrace, and the legendary MozCon Closing Bash will be held at the Seattle Museum of Pop Culture, a short monorail ride from the conference center. SEOs, agency people, content marketers, other marketers, and executives can expect tremendous value from attending MozCon.
Also, we'll be making an announcement you won't want to miss!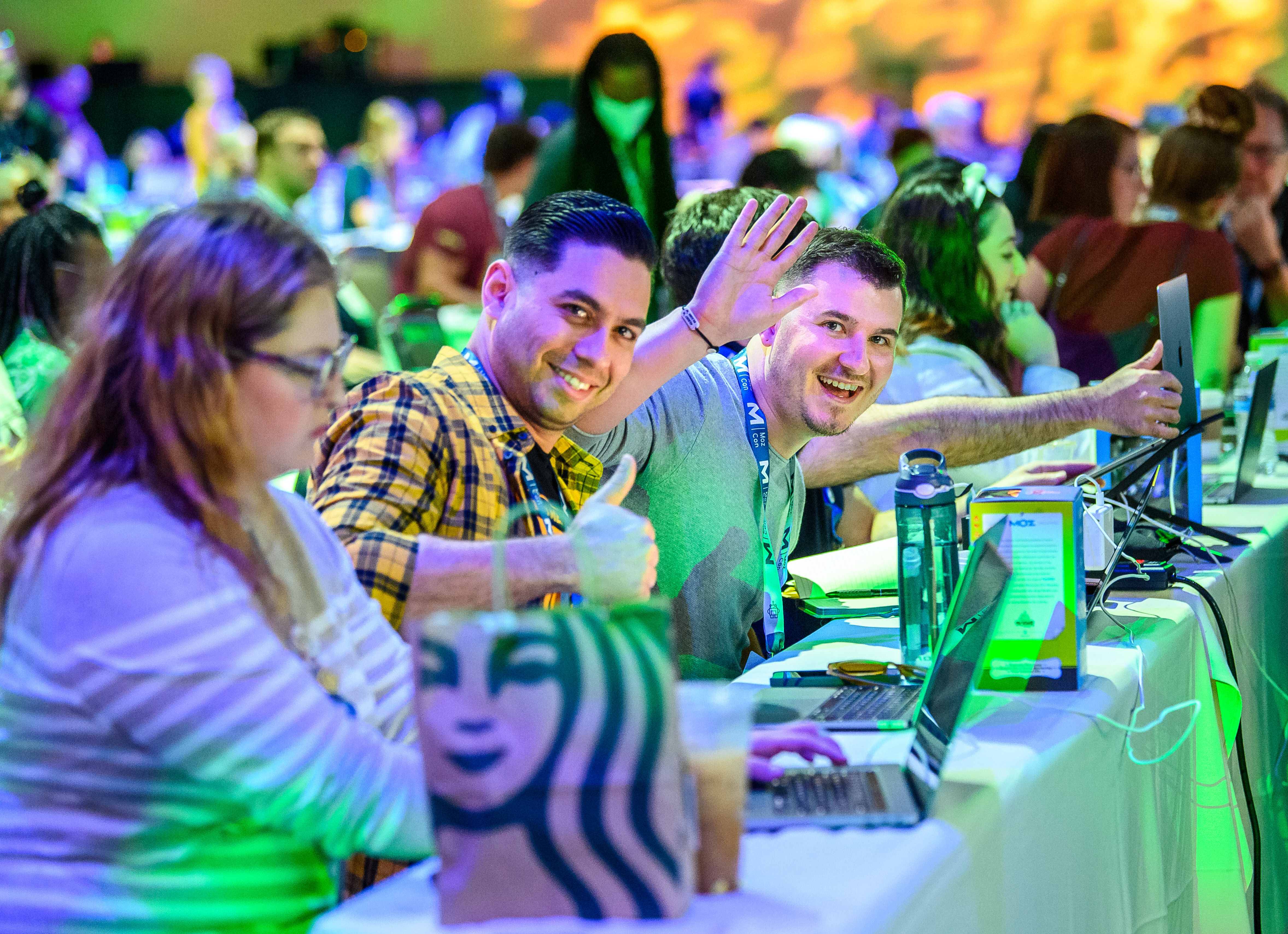 MozCon attendees wave at the camera while enjoying the 2022 presentations
Laying the foundation for the future of SEO
During the two-day conference, 21 speakers will share their latest opinions, insights and tactical approaches to adopting new trends and technologies.
Eximo Marketing's Andi Jarvis will look at what marketing lessons from the past can tell us about the future and how we can use this knowledge to drive marketing strategies today.
Sanity's Lidia Infante led the conversation about headless SEO and how it's fast becoming an essential skill for SEOs to learn.
From ChatGPT and Bing's Prometheus to Google's Bard, AI (especially Large Language Models) is revolutionizing search as we know it. Moz's own marketing scientist, Dr. Pete Meyers, will show us how we can use these tools to not only keep our SEO jobs, but also improve our SEO careers.
Ross Simmonds, CEO of Foundation Marketing, is known for his "create once, distribute forever" approach to content marketing. Ross will show us how AI can be integrated into our work and what we can do to ensure we are ahead of the curve when it comes to using these tools, embracing the technology and taking advantage amid rapid change find.
"With ChatGPT, TikTok and the launch of the new SERP, there has never been a better time to bring together the best and brightest SEO minds to reflect on these changes, share knowledge and offer practical advice," said Joelle Irvine, Director of Growth Marketing at Moz. "Ultimately, this conference is about looking ahead, thinking differently and tackling new challenges together. MozCon attendees can expect to return to work energized with new ideas, new connections, and new strategies to directly impact their digital marketing and SEO goals."
In addition to hearing from industry experts, MozCon attendees will benefit from intimate discussion panels and lively networking events that allow for the exchange of ideas with like-minded people.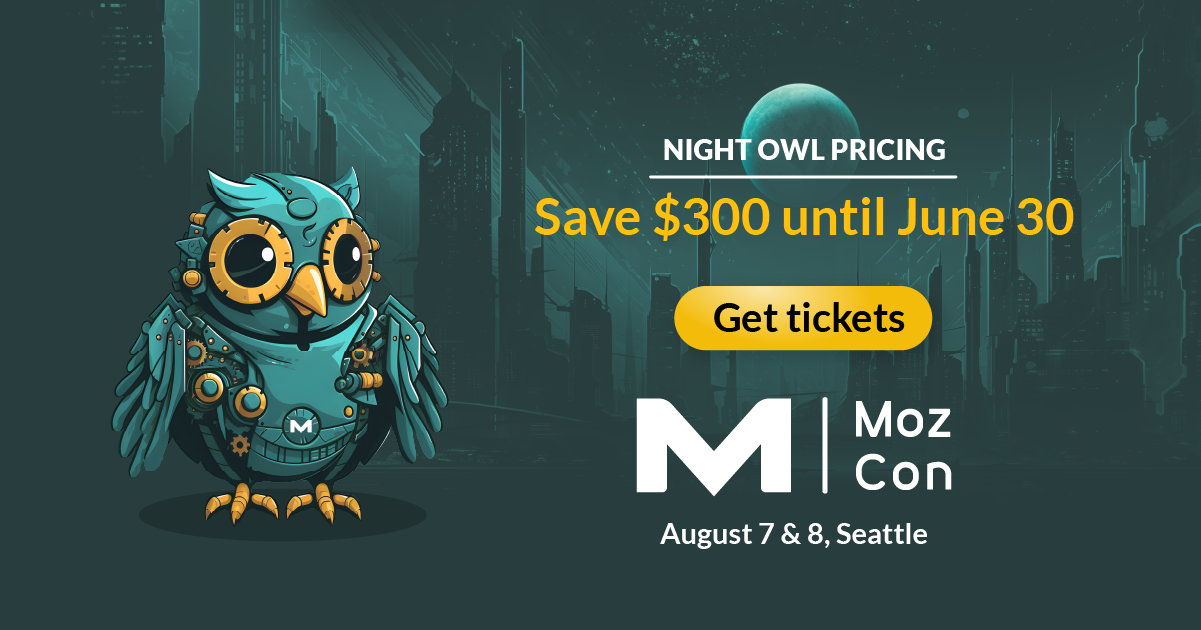 Get your tickets before it's too late!
The early bird usually gets the worm (or the discount in this case), but you're in luck! MozCon has released a limited number of tickets as part of a Night Owl sale, giving potential attendees one last chance to save on their attendance tickets.
Night Owl tickets are limited and available for purchase until June 30, 2023.
---
Photo credits
Featured Image: By Moz. Used with permission.