Your Tripadvisor listing is an important part of your local SEO strategy, acting as both a structured citation and a powerful, long-respected source for reviews. Research shows that 98% of consumers read online reviews for local businesses. Tripadvisor offers both current and potential customers a wealth of information about companies in the travel and hospitality industry.
Whether you're a restaurant, hotel, attraction or bar, if you're in the travel and hospitality industry, it's important to make sure your business has a presence on Tripadvisor and that you're in control. We've broken down exactly how to do this.
How to claim an existing listing
Step 1. Sign in and find your company's page
The best way to start is to log in to your Tripadvisor account.
Go to

https://www.tripadvisor.com/

and search for your business using the search bar.

Once you start typing, Tripadvisor will present you with a list of suggested places that match your search criteria: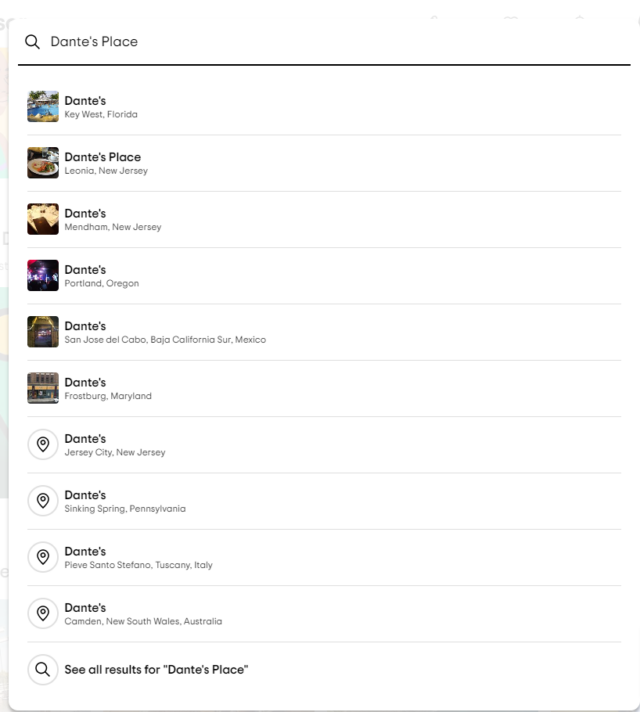 When you see your business listing, click on it. If it doesn't appear in the visible results, click "Show All Results" at the bottom of the page.

When you find the page you're looking for, click on it. A full company profile will open in a new tab.
Step 2. Claim your entry
If the page is unmanaged, "Unclaimed" will appear next to the company name: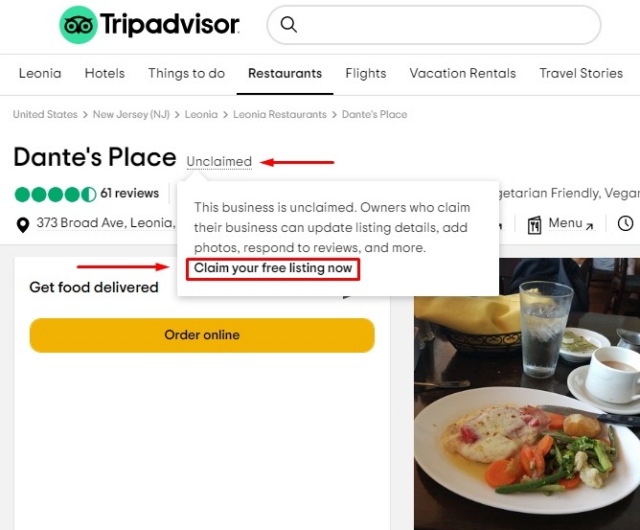 Hover over the word unclaimed to see the pop-up message, then click Claim Your Free Listing Now. at the bottom.

You will be redirected to the business owner page where you need to click on "Request a Free Listing" again.

If you haven't already logged into your Tripadvisor account, you will be prompted to: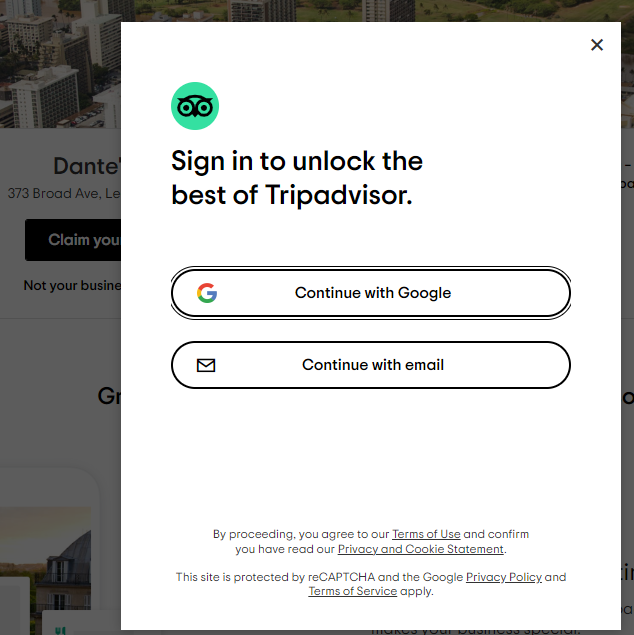 Step 3. Confirm your details
Confirm your first and last name and select your role in the company from the available options presented in the drop-down menu: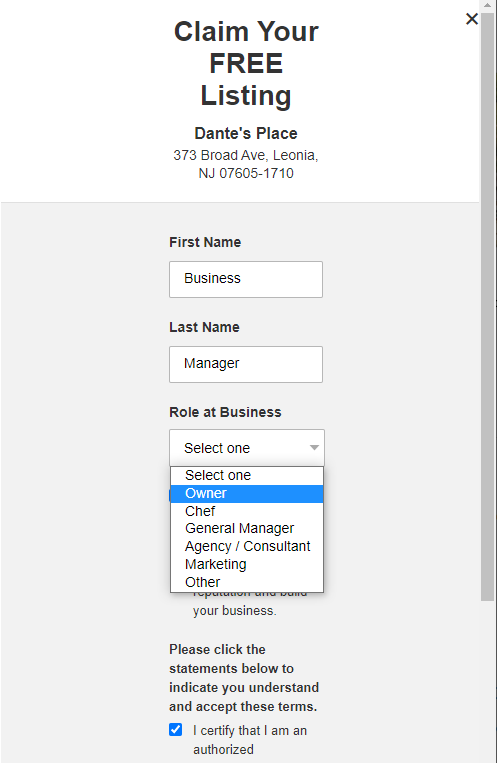 Make sure you check all the relevant boxes, agree to the T&Cs, etc. and click "Confirm" at the bottom of the pop-up.
Step 4. Get verified
The final step is phone verification. Click on the "Phone" button and select the preferred method.

If you are having verification issues, you can contact Tripadvisor directly and request assistance by clicking Contact Us at the bottom of the pop-up.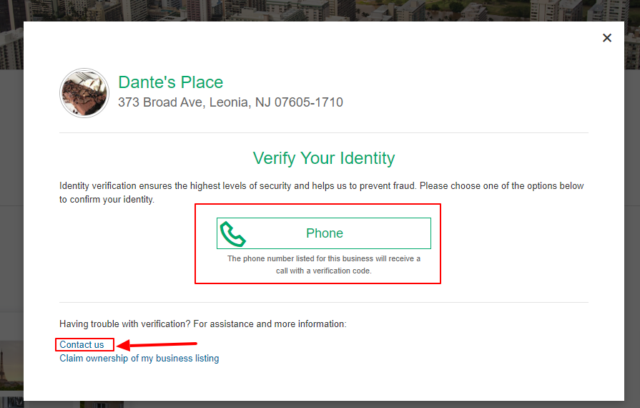 NOTE: The contact option allows you to fill out a form. The site representative will then get in touch with you.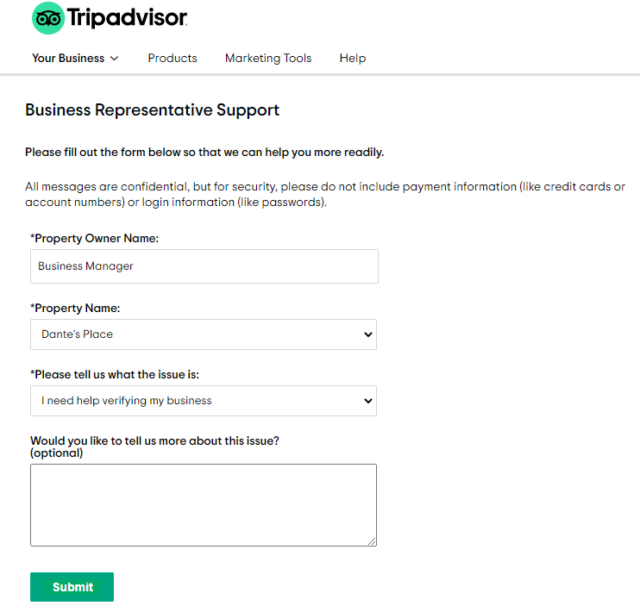 When you click the Phone button, you can choose to receive a call with a confirmation code or a text message. For phone calls there is also an option to add the extension number: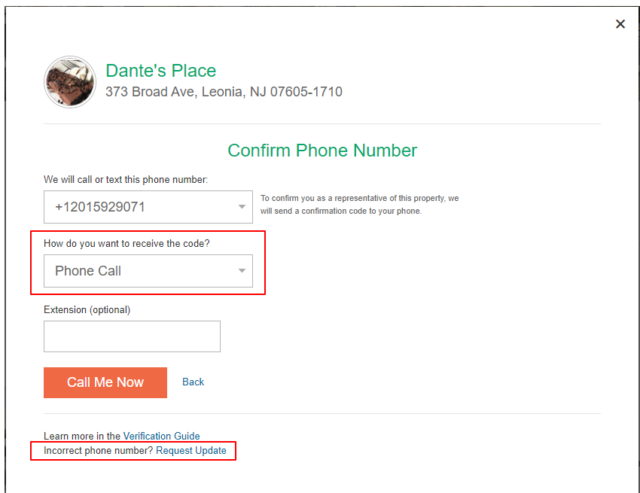 If an incorrect phone number is displayed in the existing listing, you can request an update using the "Request update" option at the bottom of the popup.

In the new popup, enter the correct phone number. Processing can take up to 5 days. Then you can proceed with the complaint: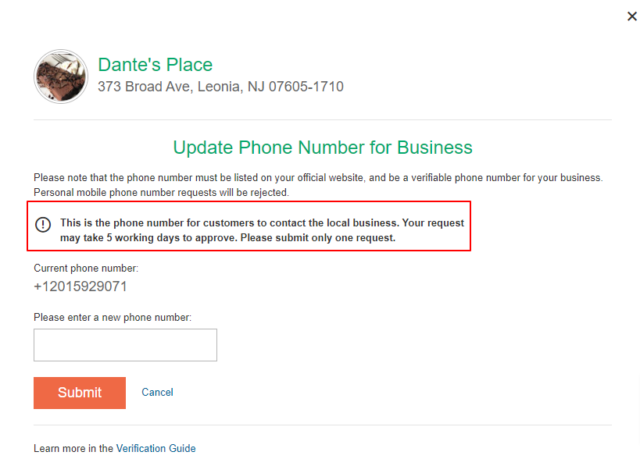 NOTE: This phone number should be for your business—not your personal phone number.
When you select your preferred verification method and click "Call Now" (or "Send My Code" for text messages), you will see the final pop-up where you can enter and submit the code you will receive: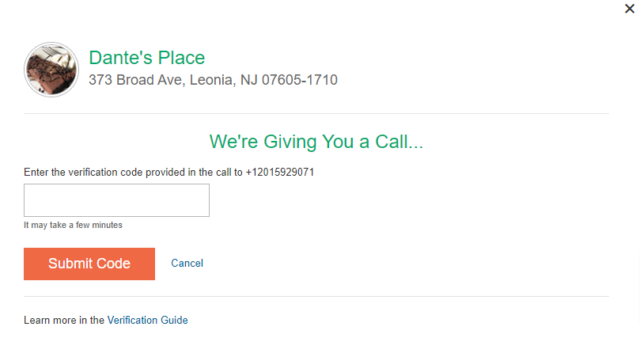 How to add a new page
Step 1. Create your listing
Step 2. Add your company details
Once this option is selected, you will be prompted to select a business category and answer additional questions: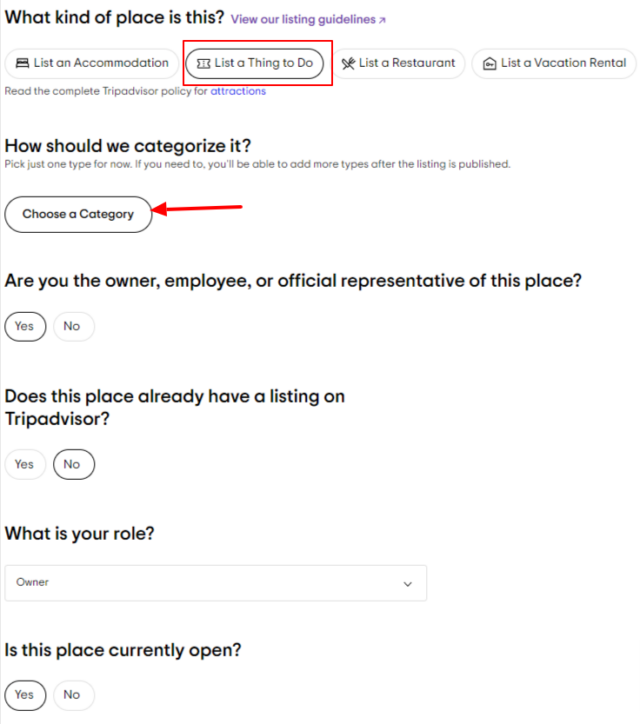 By entering you can search for a suitable category and suggestions will be displayed. If nothing is suggested, just scroll through the list and select the closest match: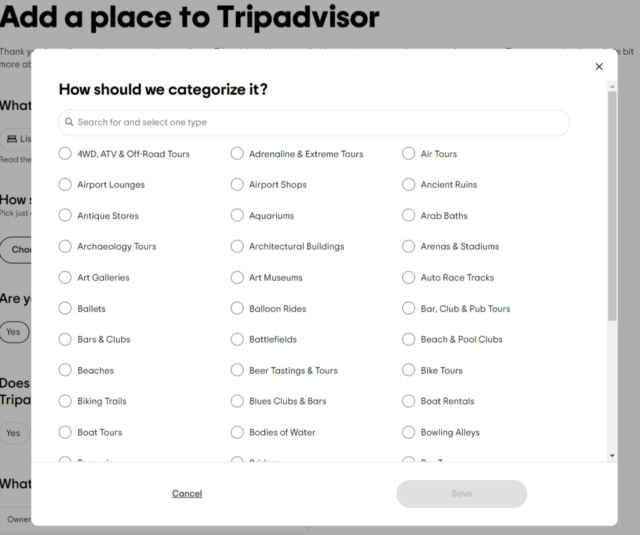 NOTE: Take a closer look on Tripadvisor Listing Policies It outlines what type of venue is eligible for listing and which businesses cannot be listed.
Once you have selected the category and answered the questions on the form, click Next. You will be taken to the next page where you can add your company name, address and contact information: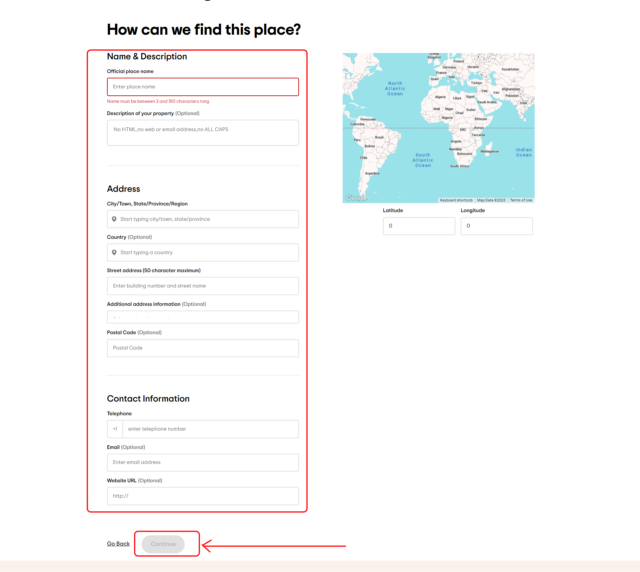 After adding this information, click Next and add more (optional) information on the next page: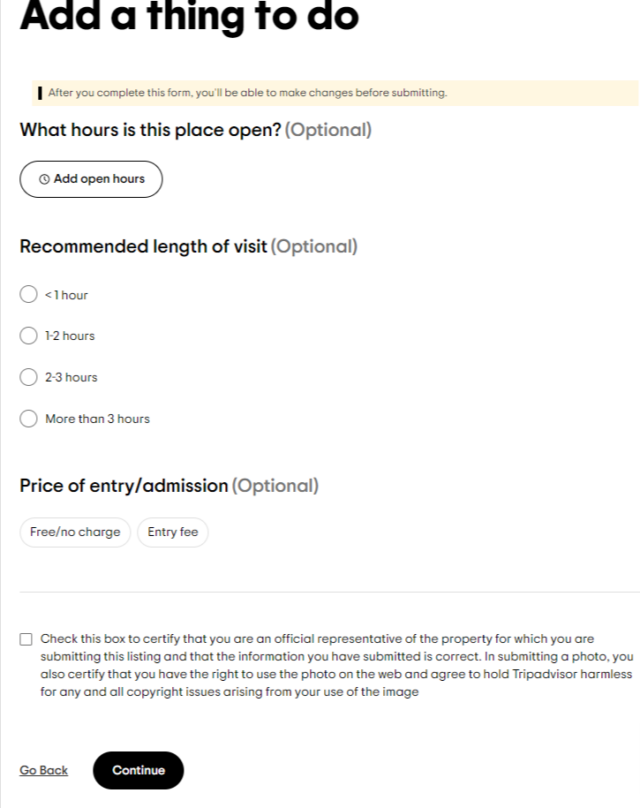 NOTE: This section will display different information/options depending on the type of venue you are adding.
Step 3. Confirm that you are the company representative
Check the box to confirm you are the company representative and click Next.

Sign in to your Tripadvisor account.
Step 4. Verify your information
Check the company information. If you are satisfied with this, click on "Yes, confirm":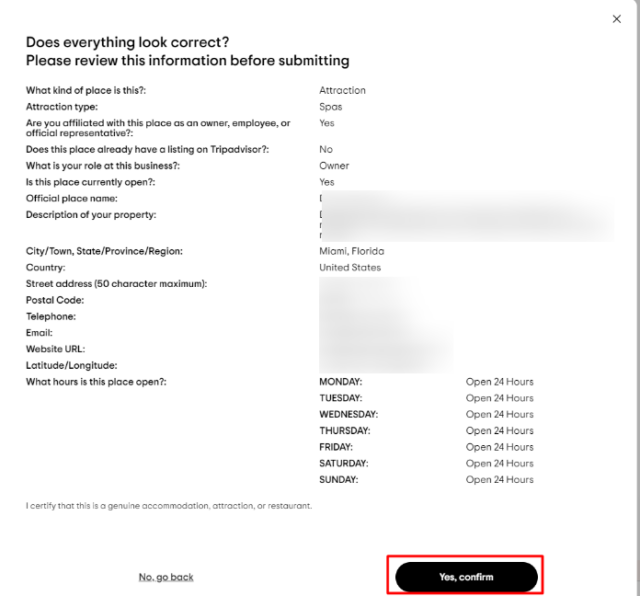 You'll see a message confirming the listing is under review and you'll be notified when it's published.

Step 5. Claim your entry
Once the listing is online and published, you can follow the previous steps and claim it.
Manage your Tripadvisor listing
Now that you're active on Tripadvisor, you can start increasing those reviews and making sure your information stays current and relevant. To get stuck? No problem; If you need help, you can always visit Tripadvisor Help. There you will find everything you need to know about managing your listing.