Jetpack has introduced a new WordPress plugin that integrates AI directly into the WordPress editor and allows publishers to generate content within the WordPress publishing workflow.
Automattic jet pack
Automattic is a software development company behind many widely used plugins, software, and websites such as WooCommerce, WordPress.com, Tumblr, Akismet, and Jetpack.
Founded by Matt Mullenweg, the developer and founder of WordPress, Automattic contributes to many open source projects such as WordPress, WordCamp US and bbPress.
Although Automattic is an entirely separate company from the non-profit organization WordPress.org, the expertise in developing and contributing to WordPress makes Automattic software the gold standard for plugins.
Jetpack AI Assistant
Jetpack has introduced a new plugin called Jetpack AI Assistant which aims to serve as a writing assistant for publishers.
The plugin makes the AI ​​assistant available within the WordPress editor block within a chat-like surface, a so-called Conversational User Interface.
This means that you basically just write whatever you want in a conversational way, like texting a person.
If you're already familiar with ChatGPT, you'll be familiar with using the Jetpack AI content generator.
The process of telling the AI ​​what you want is called "prompting".
If the resulting content needs editing, instruct them to rewrite it with anything you think is missing from the content.
Video showing Conversation UI:
Jetpack AI Assistant interface
The AI ​​Assistant is included in the block editing interface.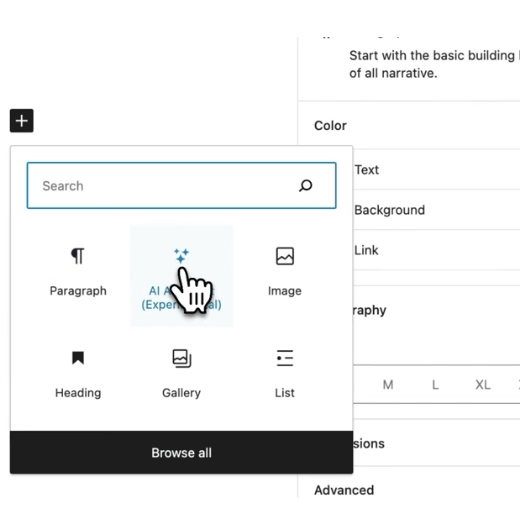 Here's a video showing how to select it:
Adaptive writing tones
The AI ​​content generator has selectable writing tones it calls Adaptive Tones that change the writing style.
These are the options for the writing tone:
Formally
Informal
Optimistic
humorous
Serious
Skeptical
Sensitive
Optimistic
Passionate
Provocative
Adaptive Tone demonstration video
Generation of titles and summaries
Creating titles and summaries is a bit tedious. Jetpack's AI plugin handles these writing tasks.
content translation
Content translation is done by selecting the translation option and choosing the language. The content of the editor is automatically translated into the new language.
Spelling and grammar correction
Another great feature is the ability to automatically go through the document and correct spelling and grammar.
Spelling and grammar correction video
How much does the WordPress AI Content Generator cost?
There are 20 free requests available. After that, it costs $20 per month for WordPress CMS users.
If you use WordPress.com, you get it for free.
These prices are not set in stone. The announcement states:
"Try the Jetpack AI Assistant block! It's ready for you to explore, with 20 free requests on us. After that, it's only $10 a month.

Also, there's exciting news for WordPress.com users: the Jetpack AI Assistant is available for free on all WordPress.com sites for a limited time. Note that Jetpack AI is an experimental feature, so prices may change in the future."
If all you need is a content generation solution for WordPress, then using the Jetpack AI plugin makes sense, especially considering that content generation is done within the WordPress editing workflow. No cutting and pasting from one app to another.
The cost of the WordPress content generator plugin is half the price of ChatGPT, which is $10 per month, currently there is no cap on requests.
The free version of the Jetpack plugin allows up to twenty free requests with all features available for use. After that, users will need to upgrade to make more requests.
Upgrading to the paid version unlocks large inquiries and priority support.
There is currently no cap on the number of requests that can be made using the paid version.
Read the announcement of the new plugin:
Meet your new creative writing partner – the Jetpack AI Assistant
Featured image from Shutterstock/san4ezz